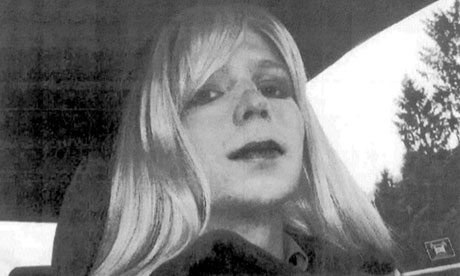 The recent
coming out of Chelsea Manning
has sparked the first national discussion about how transpeople, are criminalized and brutalized by the prison industrial complex. On today's show, we talk to Sasha Buchert from the
Transgender Law Center
about the high rate of sexual assault and incarceration of trans people of color and the laws governing medical help for transpeople in prisons.
Then we talk to Miss Major, executive director of the
Transgender Variant and Intersex Justice Project
, about the struggles of trans people to survive sexual assault and imprisonment. Janetta Johnson, Program Coordinator at TGI, shares her own experiences being locked up in federal prison for 3 years and forced to live in a men's prison and face harassment and threats.
In the second half of the show, we talk to attorney and trans activist
Dean Spade
about his new book "Normal Life: Administrative Justice, Critical Trans Politics and the Limits of Law." Spade argues that both the left and the mainstream gay movement have focused too much on legal changes that fail to promote real structural change, and elaborates on what a critical trans politics would look like.
Download
this clip (mp3, 10.27 megabytes)
Play this clip in your Computer's media player