Groundbreaking Conference in Haifa for Nuclear Free Zone in Israel:
"Enough is enough!" It's time to examine Israel's policy of not admitting they have nuclear weapons; that the existence of nuclear weapons is not an asset but a danger to the area and to Israelis.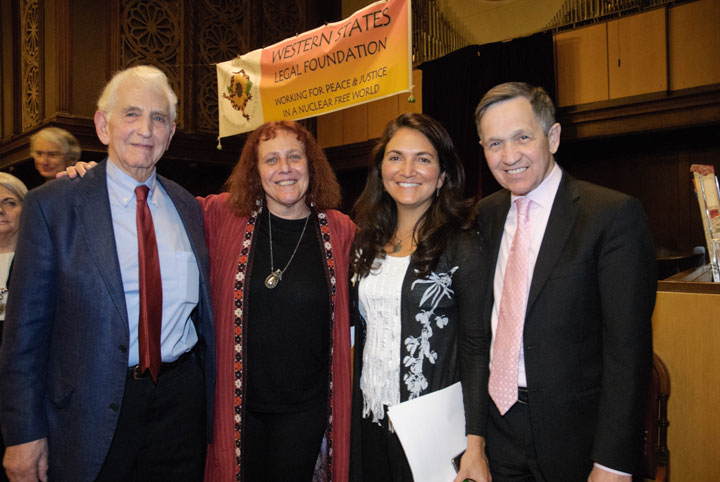 Daniel Ellsberg, WSLF Executive Director Jacqueline Cabasso, Rose Aguilar, Dennis Kucinich.
Photo by James Lerager
Kate Raphael speaks with Jackie Cabasso, Executive Director of
Western States Legal Foundation
, about the groundbreaking conference held in Haifa, Israel last month breaking the taboo on discussing Israel's nuclear weapons and other weapons of mass destruction.
The Haifa conference
was organized by a preparatory committee including former members of the Israeli Knesset (Parliament) and dedicated Israeli anti-nuclear and human rights activists from around the world.
Jackie talks about the history of efforts to make the Middle East a zone free of nuclear weapons and weapons of mass destruction, as over 137 countries around the world are. "You certainly don't have to be an expert to know that nuclear weapons are a really bad thing," says Jackie Cabasso. 21:27 min.
Click here to listen to this segment.
Get MP3.
Rape in the US:
Sexual violence from a historical, economic, cultural, and political perspective.
President Obama has convened a task force to address the epidemic of rape on campus. In this segment Lisa Dettmer talks with
Estelle Freedman
, professor of history and feminist studies at Stanford, about the history of U.S. definitions and understandings of rape and sexual violence. Freedman is the author of
REDEFINING RAPE: Sexual Violence in the Age of Suffrage and Segregation
.
Harvard University Press
says about Estelle Freedman's book: Rape has never had a universally accepted definition, and the uproar over "legitimate rape" during the 2012 U.S. elections confirms that it remains a word in flux. Redefining Rape tells the story of the forces that have shaped the meaning of sexual violence in the United States, through the experiences of accusers, assailants, and advocates for change. In this ambitious new history, Estelle Freedman demonstrates that our definition of rape has depended heavily on dynamics of political power and social privilege. 29:28 min.
Click here to listen to this segment.
Get MP3.
Click here to listen to the entire show.
Includes music by boogie-woogie pianist Caroline Dahl and singer-songwriter Holly Near. 58:06 min.