Listen
to the full show.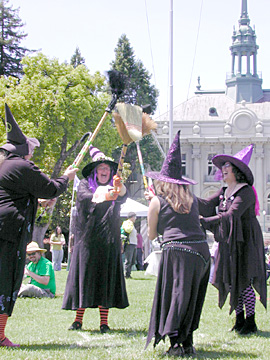 (
Photo courtesy Reclaiming Quarterly
)
For thirty years,
Starhawk
has been one of the most influential voices in the development of women's earth-based spirituality. Her classic text
The Spiral Dance
has been continuously in print for 30 years and has been translated into 11 languages. Starhawk is also the author of ten other books and a teacher of magical activism. She sits down with Women's Magazine Kate Raphael for a wide-ranging discussion about how magical activism grew up in the context of the women's movement, her own beliefs, and how she became involved in the movement for Palestinian liberation. Learn more about neopaganism and the
Spiral Dance
.
Download
or Listen Here:
You're not alone if you've ever wondered what Muslims really believe and practice! Fortunately, in her new book,
The Muslim Next Door: the Qur'an, the Media, and that Veil Thing
, author
Sumbul Ali-Karamali
, a Stanford - educated mom and corporate lawyer with degrees in Islamic law and English, invites you inside for a candid, witty, and surprisingly down-to-earth conversation about Muslim life in America. Sumbul Ali-Karamali spoke with Gabrielle Wilson about this groundbreaking book.
Download
or Listen here: