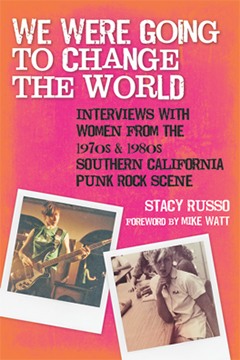 This segment features Stacy Russo, whose new book is
We Were Going to Change the World: Interviews with Women From the 1970s & 1980s Southern California Punk Rock Scene
. Stacy, who was part of that scene, interviewed over 40 women including fans, musicians and photographers, about why they were drawn to punk, how they participated and how it influenced the rest of their lives.
Click here to listen to the entire show. 59:50 min
Also on today's show:
100% renewable energy to 100% of people
Events:
Kate Raphael will be signing her new book, Murder Under the Fig Tree
Palestinian Holiday Crafts Bazaar!
Sunday, December 10: 11am-3pm
At the Middle East Children's Alliance
1101 8th Street, Berkeley
(near Gilman & San Pablo)
Spirit Rock presents:
Your One Wild and Precious Life: A Day for Adventurous Women with Kate Munding and Betsy Rose
Sunday, December 10, 9:30am - 4:30pm
Community Meditation Center
Sliding Scale $75 - $200. Please bring your lunch. Code KM4D17.