Why Don't U.S. Women Choose Science Careers?
Eileen Pollack was one of the first two women to receive a bachelors in Physics from Yale, but ended up teaching creative writing instead of going on in science. In this interview, Ms. Pollack talks about what happened to her, and why the numbers of U.S. women in math and science have changed very little in the last thirty years. Ms. Pollack is author of the novels BREAKING AND ENTERING and PARADISE, NEW YORK. She recently wrote a piece for the
New York Times
entitled
"Why Are There Still So Few Women in Science?"
Listen Now:
Or get
MP3
Golden Thread Productions
, recognized as the leading Middle Eastern Theater in the country, opens its fall season with "444 Days." "444 Days" is artistic Torange Yeghiezarian's first full-length play to be staged in 15 years. It explores the relationship between a former American hostage in Iran, and one of his captors, who has come to the Bay Area 25 years later to seek treatment for her critically ill daughter. It has received excellent reviews in local press. Torange Yeghiezarian talks with Kate Raphael about how she wrote the play and what she hopes to accomplish.
Get
MP3
Find out how you can
get tickets
for "444 Days."


Being Out of Order, or How Feminism Rocked the Convent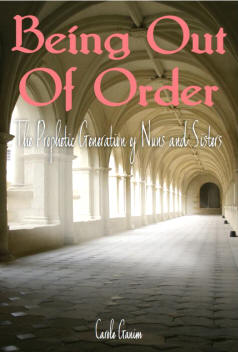 Carole Ganim and Lucienne O'Keefe spent 38 years between them in an Ursuline convent in the 1950s and 60s. They were very happy there, yet by the early seventies, they, like so many other women, had left their order. In this interview they discuss why they grew restless with the idyllic life of the convent, and how they see the future of the Catholic church. Ganim is author of the book
BEING OUT OF ORDER: THE PROPHETIC GENERATION OF NUNS AND SISTERS
.
Listen:
Get
MP3