Today we look at four women-led media projects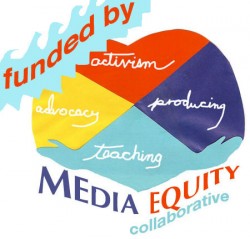 First up, we hear from three recipients of the 2012
Media Equity Collaborative
awards, and from the founder of the collaborative, Ariel Dougherty.
Listen to the interview (22:13):
or
Get MP3
.
Support
Media Equity Collaborative
.
Sauda Burch and Xochipala Maes Valdez are the coeditors of
Road to Ife
, a multimedia journal of spirituality and activism. Ifa is an ancient spiritual tradition from West Africa, that traveled to the Americas with the slaves. It evolved differently in every community, and has practitioners all over the world. With this new venture, initiates, writers and artists Burch and Valdez strive to address the needs of Ifa practitioners and connect with practitioners of other earth-centered traditions.
Listen now (25:44):
or
Get MP3
.
Two weeks ago, over 400 people from all over California marched and rallied at the Central California Women's Facility in Chowchilla. Family members and friends of incarcerated women along with social justice activists from every community came together to protest the overcrowding and mistreatment of women being squeezed into even more crowded conditions as Valley State Women's Prison is being converted to a men's prison. Governor Jerry Brown
says the crisis over overcrowding and inadequate health care in California's prison system is ove
r, but those with first-hand knowledge of the conditions for women disagree.
Listen now (5:55):
or
Get MP3
.
Listen to the entire show
, including information about Thursday's
One Billion Rising
events.